Read more/less

We've studied the statistics, we know the trajectory of cybercrime in the coming years, and we are poised for both prevention and defense. Cyberattacks impact an organization's budget and reputation, and a large attack could cause enough damage to virtually wipe out a small or mid-sized hospital altogether. That is where we come in. Healthcare is one of the most vulnerable entities for hackers to target. We support you to ensure that those risks are mitigated and your data is sound and protected. We use the most cutting edge strategies and data security approaches to stay one step ahead of the cybercriminals. We offer a comprehensive security service that is in compliance with all government mandates to prevent, detect, and recover from any attack on personal health information and sensitive data, from electronic medical records to medical devices and everything in between. The fallout from a cyber attack can be devastating if you don't have a proper plan in place. Getting a state-of-the-art cyber security system up and running involves research and preparation. We take a proactive and progressive approach in getting it done quickly and efficiently so there is no loss due to prolonged system downtime or network interruption. Partner with a cybersecurity team offering the highest level of cutting edge protection to outpace any threats. We believe in using a holistic approach to cybersecurity, one that works defensively and offensively with each facet having an effect on the next to create an all-encompassing system of healthcare security. Through our extensive analysis, we can pinpoint weak areas in an IT infrastructure and determine what action items need to be taken to secure those vulnerable access points. Our core elements of holistic cyber security consist of compliance, prevention, detection, and response.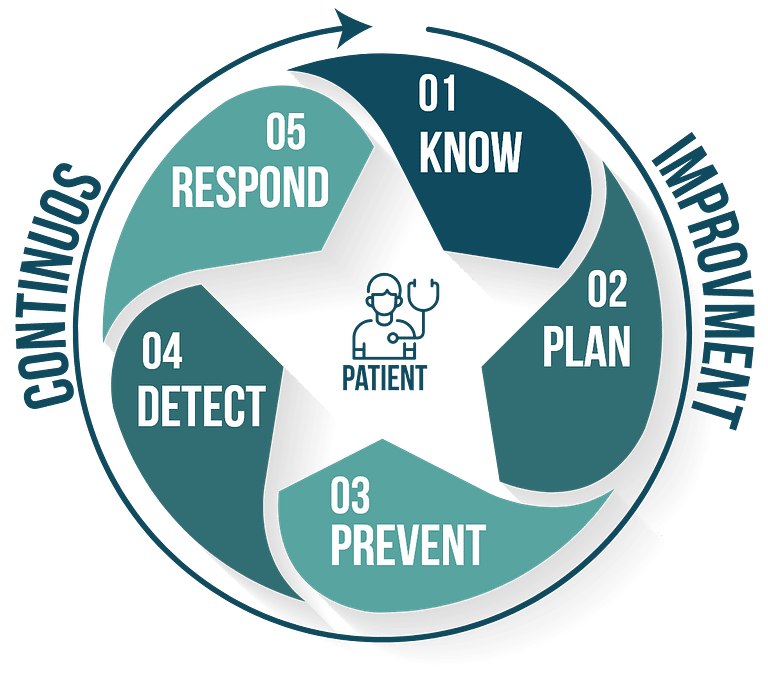 1. KNOW | NETWORK AUDIT & RISK ASSESSMENTS
Often healthcare delivery organizations (HDOs) do not have an up to date and comprehensive list of equipment on their network, what data is being shared between these devices, operating systems, scheduled updates, or even know which assets are storing sensitive information. These unknowns create vulnerabilities and increase the risk that a breech will occur. Our technology quickly pulls this information from the network and assesses it for known risks. Once the risks are known, they can be prioritized and mitigated. Our services include some or all of the following:
Network mapping And documentation
Identification & classification of networked and non-networked devices
Perform general, MDS2, FDA, CVE & other known risk assessments
Create inputs for governance development
Prioritize risk mitigation tasks
Asset management support
2. PLAN | GOVERNANCE DEVELOPMENT,
COMPLIANCE & ADHERENCE
We help your HDO create policies and procedures designed to reduce vulnerabilities, prevent data breaches, and ensure your company is in compliance with the latest government mandates. We offer automated solutions to help you maintain adherence and compliance across the board with actionable steps to make it simplistic and fluid. We stay up-to-date on the statistical research and can anticipate what's coming through the pipeline in regards to cybersecurity policy and compliance in healthcare and how that will translate to a mid-sized hospital or healthcare organizations and its employees. Our services include some or all of the following:
Stakeholder identification
Review of applicable regulations
Review of assessment inputs
Cyber policy, process, and procedure development
Identifying appropriate roles and responsibilities of stakeholders
Identify / establish communication channels
Role-based governance training
Develop continuous risk analysis processes and algorithms
Develop new tech introduction processes
Develop technology life-cycle management processes
Regulatory support
3. PREVENT | NETWORK HARDENING &
PERSONNEL DEVELOPMENT
The most common cyberattacks happen on the front end and include malware (ransomware, Trojans, and spyware), distributed denial-of-service (DDoS), phishing, SQL injection attacks, XXS, and botnets. Access points are usually sniffed out using email applications. Employee training is crucial in combating this hacking strategy. If employees are educated to develop an understanding of these common attacks and how they typically occur, mitigation techniques and strategies can be put into place to prevent breaches. Prevention is about developing detailed security policies, implementing mandatory employee training on these policies, and finally installing proper filters and anti-malware software to ensure the highest level of preventative protection. Our services include some or all of the following:
Access control
Hardening endpoints through virus protection, patch management, &  segregation
User awareness training
Policy adherence
Breech simulations and disaster drills
Asset Maintenance
4. DETECT | CONTINUOUS MONITORING

Closely tied to prevention measures are detection strategies. These two approaches, in tandem, help to mitigate risks by assertively anticipating attacks. We monitor both external and internal activity on your networks. Our clients can rest assured that while they are focused on their patients, we are focused on ensuring protection of their networks. Continuous monitoring allows us to quickly catch and respond to suspicious activity thus mitigating its impact.
Anomaly and event tracking
Automated mitigation
Baseline analytics
5. RESPOND | INCIDENCE RESPONSE & MITIGATION
Tying into Emeritus Cyber Solution's holistic approach to cybersecurity is threat response. This facet begins even before a potential breach does, and it's two-fold: preparedness and containment. Anticipating a potential threat with a plan in place outlining action steps and containing the threat by disconnecting or segregating networks to preserve protected data are both parts of an effective counterattack. Our monitoring is constant so our response times are quick and our recovery process seamless.
Backup and disaster recovery
Resilience improvements
OUR CYBER DEFENCE PROGRAM
DELIVERS VALUE
You can't always keep a breach from happening, but with Emeritus Cyber Solutions on your side, you can drastically limit its impact on your organization. Our experts are always there to mitigate and recover with minimal downtime or disruption to daily clinical practices. You can rest assured that we will always have a plan in place for every anticipated scenario.
EMPOWERING our clients to operate at the leading-edge of technology
Through sound healthcare cyber security management practices, our clients can rely on their clinical networks to perform efficiently and safely. The proper balance of intentional design, continuous monitoring, staff training, and risk management is how the systems we support meet the ever-evolving challenges.
The first step to solving a problem is being able to clearly see it. We show you exactly what medical devices are on your network, what they interact with, what type of data they transmit, known vulnerabilities, and current configuration settings. With this knowledge you can create a plan to address issues and protect your medical devices.
Cyber security requires plans, policies, and procedures that work together to ensure your medical devices are safe from attack. Applying medical device expertise, we can evaluate your processes for completeness or help you deploy them to fill gaps. Ensuring plans are in place to perform regular audits, maintain systems, monitor threats, and respond to incidence provides peace of mind against cyber risks.
Our thorough risk assessment and planning procedures ensures that actions taken to harden the network are prioritized towards the greatest threats and non-disruptive to patient care.
Cyber threats are ever evolving requiring continuous maintenance. Our configuration and patch management programs help your devices maintain the highest level of protection.
Real-time surveillance is key to mitigating cyber security risks. Understanding what your baseline activity looks like and being able to recognize when something goes wrong speeds incidence response and reduces impact and cost.
Sign up for our
Healthcare Cyber Security
Newsletter