WHY YOU NEED Managed Security Services for Healthcare?
The healthcare Managed Security Services Provider (MSSP) role centers on designing, providing, and monitoring information security needs of your healthcare technology. This management and support can come in many forms such as training clinical staff in cyber awareness, remotely monitoring your network for bad actors or malware, creating a disaster recovery plan and much more. Managed cyber security specifically designed for healthcare is the key to making sure your staff can do their jobs quickly and effectively with fear of compromising patient data. And nowhere is being quick and effective more critical, than in the healthcare setting.

Read more/less

The sensitive nature of healthcare information needs to be protected. Traditional IT MSPs focus on creating and supporting easy access to information systems but provided only a basic level of security. They've offered an adequate and operational IT environment for healthcare for decades, but with the massive uptick in cyberattacks, especially in the historically vulnerable medical sphere, organizations are looking for more than adequate managed services providers. This is why a Managed Security Service Provider (MSSP) is where you will find a true comprehensive service operation to ensure your system is safe, secure and compliant. While a standard IT MSP was fine for small and mid-sized healthcare organizations in the past, with incidents of cyberattacks and security breaches being on the rise, a MSSP is becoming a much more favorable option in protection of the highly sensitive data contained within a medical record system. MSSPs are the answer to combatting the growing number of cyber security challenges for mid-sized healthcare organizations such as small hospital systems, surgery/imaging centers, long-term care facilities, and physician networks.
Emeritus has the service level that you need from consulting to fully outsourced solutions.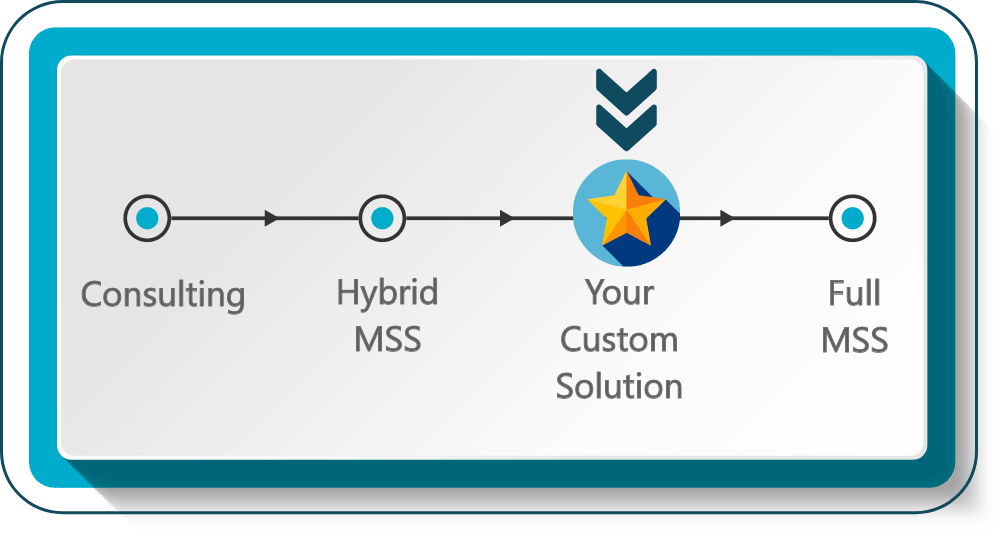 Creating plans, policies, and processes that protect your medical network is essential. Our experts customize these plans to meet industry-specific regulatory requirements and limit the impact on your clinical workflows. We continuously put these plans to test to ensure everyone knows their role at time of incidence.
We remotely watch your medical network for signs of intrusion, misuse, or other error states. Real-time notifications allow for fast response and risk mitigation. Our zero-day, industry-specific research provides ultimate protection for your network.
Rest assured that when an incident happens, you have the right policies, procedures, and experts by your side to reduce the impact to your practice and your patients. You can't always keep a breach from happening but you can be prepared to limits its impact.
Always ahead of the threat
Staying ahead of today's threats requires regular software and firmware updates. Let us help you keep your patient's data safe and your medical network working efficiently by applying industry best practices. Frequent response emulation allows our clients to continuously improve their process.
Cyber Security In Healthcare
While a MSP's sweet spot is usability and performance of your Healthcare IT infrastructure, an MSSP is laser-focused on cybersecurity. The MSSP offers four core components of security: prevention, detection, rapid response, and recovery. Each component is interrelated and contingent upon the next so it is important to view each component as part of the whole security system.
The first line of defense for keeping protected health information safe is prevention. The most common cyberattacks include malware (ransomware, Trojans, and spyware), distributed denial-of-service (DDoS), phishing, SQL injection attacks, XXS, and botnets. Having an understanding of these common attacks and how they typically occur allows for various mitigation techniques and strategies to be put into place to prevent them from beaching. One of the best places to begin prevention measures is three-fold:
1. Develop detailed security policies
2. Implement mandatory employee training on these policies
3. Install proper filters and anti-malware software
Another important responsibility of an MSSP and goes hand-in-hand with prevention measures is detection or monitoring. The two together help to mitigate risks by being proactive in anticipating cyberattacks. An important tool of detection strategies is using a threat detection log. This allows you to detect suspicious activity on your networks and systems. If these logs are well maintained and regularly reviewed, you'll have access to a detailed assessment of your network's security, allowing you to assess a threat before it becomes a full-blown attack. Other detection strategies include penetration testing, automated monitoring systems, and user behavior analytics.
Rapid response to a security breach begins even before the breach does. There are several steps involved with an effective rapid response to a cyberattack, the first being preparedness. Anticipating a potential threat and having a plan of counterattack is key. Being able to use threat detection logs to identify unusual or suspect activity can help position you for a better outcome as well. The next step would be an offensive maneuver in the containment of the potential threat, albeit by disconnecting or segregating certain networks to preserve the protected data.


Once the threat is neutralized and eradicated, recovery can begin. This process can be lengthy as an MSSP performs a thorough post-attack analysis to see what was targeted, why, and how. Based on the results of the analysis, new controls can be put into place to strengthen the IT environment to make it less vulnerable to a future attack.
ARE YOU READY FOR Managed Security
Services?
MSSP services are no longer just for the massive healthcare sectors anymore. They are quickly becoming a necessity for mid-sized healthcare organizations that include surgery/imaging centers and long-term care facilities. The services they offer, above and beyond those of a traditional MSP, are highly sought after. They can offer protection from data loss and downtime due to cyber threats like malware, phishing, and insider attacks. Because they specialize in cyber security, MSSPs help organizations implement high-level security procedures and develop appropriate policies and training to ensure the highest level of data safety by providing these services:
What to Look for
in a Managed
Security Service
Provider for your
Healthcare Setting
When it comes to a Managed Security Service Provider, Emeritus has expertise in Healthcare Technology Management (HTM), also known as Clinical Engineering, with traditional cybersecurity best practices to create customized solutions required to protect data in the healthcare setting. This, coupled with our continued education, are the staples to a cutting-edge company. Look for an MSSP whose operators are up on the latest developments and implementations of new products and services. A company that encourages its employees to continue their education, or even has a mandate in place for it, is a good indicator that you'll be working with a company that is passionate about, and progressive in, the field of cyber security.